Piano Tuning and Piano Repair

in Southern California
complete piano service for the inland empire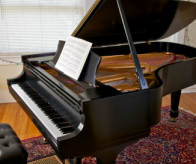 A piano that is maintained regularly by a professional piano technician is an unending source of enjoyment, fulfillment, and inspiration. Such a piano sounds beautiful every time you sit down to play because it is in tune and has been voiced to produce a pleasing tone. Not only does it sound good to your ears; it feels good to your fingers and hands because the action has been adjusted for a pleasant, even touch, causing the piano to respond quickly and easily to your every nuance of touch.
We specialize in high level on-site service of acoustic pianos, including grand pianos of every size, full-size uprights, studio uprights, consoles, and spinets. We service pianos of nearly every make and model, including Baldwin, Bechstein, Bluthner, Boston, Estonia, Hailun, Kawai, Kimball, Mason & Hamlin, Pearl River, Petrof, Samick, Schafer & Sons, Steinway & Sons, Wurlitzer, Yamaha, Young Chang, and many others. We serve hundreds of satisfied clients in private homes, churches, universities and schools throughout the Inland Empire of Southern California. Please follow this link to view an alphabetical list of cities in our service area.
If you are looking for professional quality piano service, you've come to the right place. As a Registered Piano Technician member of the Piano Technicians Guild, our piano technician will work with you to make your piano the very best, most satisfying musical instrument that it can be.
By placing your piano on a regular service schedule, you are investing in the future of your piano, ensuring that your piano receives the service that it needs when it needs it. Necessary adjustments and repairs are performed as they arise, before they develop into serious (and often expensive) problems.
Thanks for visiting! While you're here, feel free to check out the rest of our website. There's a wealth of information here! And should you have any unanswered questions, or if you're ready to make an appointment for piano service, please give us a call at (909) 824-2561. We'd love to hear from you!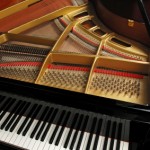 Full Service

Piano Tuning & Piano Repair

No matter what type of service your piano may need, from simple tuning or piano maintenance to more involved piano repair, rest assured that our piano technician, a Registered Piano Technician member of the Piano Technicians Guild, has the necessary training, knowledge, and experience for the job.

Whether your piano just needs to be tuned, or is in need of cleaning, repair, regulation, voicing, or more extensive reconditioning, we are prepared to satisfy your every desire with full service care for your piano.
Client-Focused

Piano Tuning & Piano Repair

At Domeny's Piano Service, we believe that piano service should be client focused. That's why we set aside time during every service call to get to know you, your needs, and your desires, as they relate to the performance of your piano.
Once we ascertain your individual needs and desires, we will work with you to develop a service plan that meets your needs, satisfies your desires, and fits within your budget.
Call Us Today – (909) 824-2561
If you have any questions about the piano services that we offer, give us a call today at (909) 824-2561. Or you can contact us using this online form.
Professional Services
Domeny's Piano Service offers a full range of professional, on-site piano services. For more information, please click on the links below.
Serving the communities of…
Alta Loma, Beaumont, Bloomington, Calimesa, Cherry Valley, Chino, Chino Hills, Claremont, Colton, Corona, Crestline, Eastvale, Fontana, Grand Terrace, Highgrove, Highland, Jurupa Valley, La Sierra, La Verne, Loma Linda, Mentone, Mira Loma, Montclair, Moreno Valley, Norco, Ontario, Pomona, Rancho Cucamonga, Redlands, Rialto, Riverside, San Bernardino, San Dimas, Upland, Yucaipa, and more…